Home Cinema
Audio Video Installations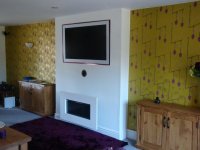 Since LCD and Plasma TV's have become popular we at Kingsmead & Haslington Aerials have specialised in wall mounted tv's with no cables showing - this is just an extension to our previous experience of installing high end Home Cinema equipment such as overhead projectors. We can wall mount your LCD or Plasma TV then chase out all the plasterwork neccesary so that all the cabling required to connect equipment such as DVD's, satellites sound systems, ceiling spekers etc. can be put in place and then replastered. Our fully qualified electrician will install a mains socket at the back of the TV so that no cables are showing. Haslington Aerials first started doing audio video installations over fifteen years ago when we were fitting overhead projectors with motorised screens. We still install projectors but most homes are too small for this so we now mainly install TV's. Wall mounted TV's and ceiling speakers free up a lot of extra floor space so making your main room feel larger.
Audio video installations from Haslington Aerials are simple to arrange - just click on our contact page or call us now to arrange a survey.
Home Cinema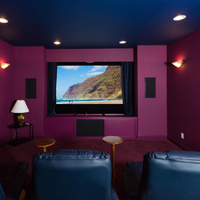 With the onset of ever larger screens most people want the audio experience to be as big as the video - big picture needs big sound! Our audio video installations offer just that - wall mounted tv's with ceiling speakers and sub-woofer. Aktive aerials earlier experience with large screen images from overhead projectors means we are ideally placed when it comes to matching the right audio with the picture to give you the ultimate home cinema experience. Wall mounted TV's are now the centre of the family viewing experience - whether its watching sporting events,films or playing the latest computer game. Contact us at Haslington Aerials for a free quote on your installation. Now with the arrival of Smart TV's internet connection is required - call us now for all your networking needs.